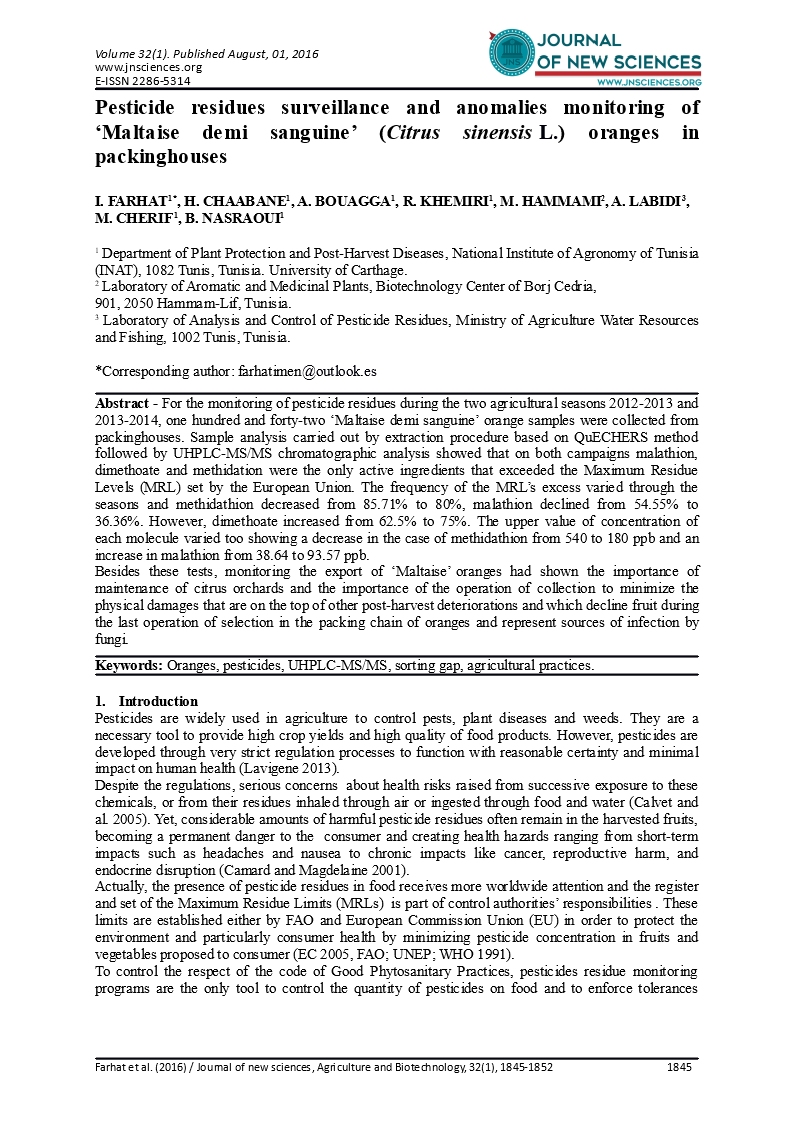 I. FARHAT1*
H. CHAABANE1
A. BOUAGGA1
R. KHEMIRI1
M. Hammami2
A. LABIDI3
M. CHERIF1
B. NASRAOUI1
1 Department of Plant Protection and Post-Harvest Diseases, National Institute of Agronomy of Tunisia (INAT), 1082 Tunis, Tunisia. University of Carthage.
2 Laboratory of Aromatic and Medicinal Plants, Biotechnology Center of Borj Cedria, 901, 2050 Hammam-Lif, Tunisia.
3 Laboratory of Analysis and Control of Pesticide Residues, Ministry of Agriculture Water Resources and Fishing, 1002 Tunis, Tunisia.
Abstract - For the monitoring of pesticide residues during the two agricultural seasons 2012-2013 and 2013-2014, one hundred and forty-two 'Maltaise demi sanguine' orange samples were collected from packinghouses. Sample analysis carried out by extraction procedure based on QuECHERS method followed by UHPLC-MS/MS chromatographic analysis showed that on both campaigns malathion, dimethoate and methidation were the only active ingredients that exceeded the Maximum Residue Levels (MRL) set by the European Union. The frequency of the MRL's excess varied through the seasons and methidathion decreased from 85.71% to 80%, malathion declined from 54.55% to 36.36%. However, dimethoate increased from 62.5% to 75%. The upper value of concentration of each molecule varied too showing a decrease in the case of methidathion from 540 to 180 ppb and an increase in malathion from 38.64 to 93.57 ppb. Besides these tests, monitoring the export of 'Maltaise' oranges had shown the importance of maintenance of citrus orchards and the importance of the operation of collection to minimize the physical damages that are on the top of other post-harvest deteriorations and which decline fruit during the last operation of selection in the packing chain of oranges and represent sources of infection by fungi. 
Keywords: Oranges, pesticides, UHPLC-MS/MS, sorting gap, agricultural practices.