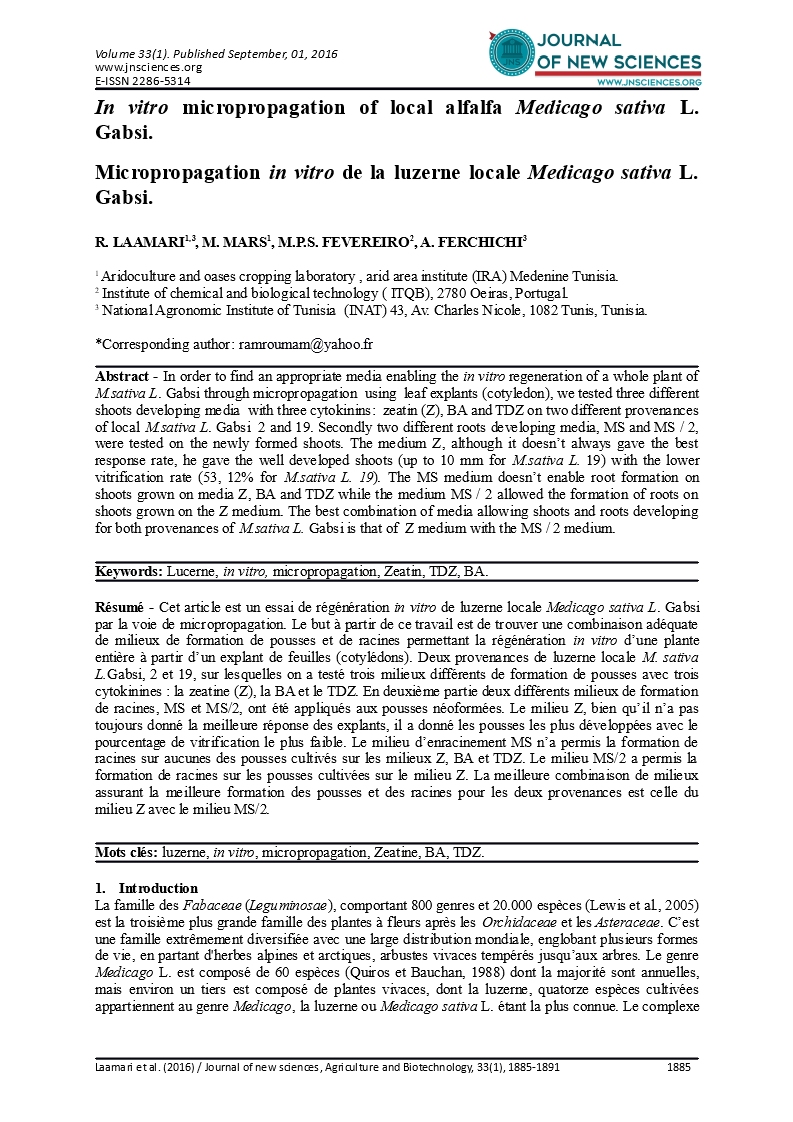 Micropropagation in vitro de la luzerne locale Medicago sativa L. Gabsi.
R. LAAMARI1,3
M. MARS1
M.P.S. Fevereiro2
A. FERCHICHI3
1 Aridoculture and oases cropping laboratory , arid area institute (IRA) Medenine Tunisia.
2 Institute of chemical and biological technology ( ITQB), 2780 Oeiras, Portugal.
3 National Agronomic Institute of Tunisia (INAT) 43, Av. Charles Nicole, 1082 Tunis, Tunisia.
Abstract - In order to find an appropriate media enabling the in vitro regeneration of a whole plant of M.sativa L. Gabsi through micropropagation using leaf explants (cotyledon), we tested three different shoots developing media with three cytokinins: zeatin (Z), BA and TDZ on two different provenances of local M.sativa L. Gabsi 2 and 19. Secondly two different roots developing media, MS and MS / 2, were tested on the newly formed shoots. The medium Z, although it doesn't always gave the best response rate, he gave the well developed shoots (up to 10 mm for M.sativa L. 19) with the lower vitrification rate (53, 12% for M.sativa L. 19). The MS medium doesn't enable root formation on shoots grown on media Z, BA and TDZ while the medium MS / 2 allowed the formation of roots on shoots grown on the Z medium. The best combination of media allowing shoots and roots developing for both provenances of M.sativa L. Gabsi is that of Z medium with the MS / 2 medium.
Keywords: Lucerne, in vitro, micropropagation, Zeatin, TDZ, BA.
Résumé - Cet article est un essai de régénération in vitro de luzerne locale Medicago sativa L. Gabsi par la voie de micropropagation. Le but à partir de ce travail est de trouver une combinaison adéquate de milieux de formation de pousses et de racines permettant la régénération in vitro d'une plante entière à partir d'un explant de feuilles (cotylédons). Deux provenances de luzerne locale M. sativa L.Gabsi, 2 et 19, sur lesquelles on a testé trois milieux différents de formation de pousses avec trois cytokinines : la zeatine (Z), la BA et le TDZ. En deuxième partie deux différents milieux de formation de racines, MS et MS/2, ont été appliqués aux pousses néoformées. Le milieu Z, bien qu'il n'a pas toujours donné la meilleure réponse des explants, il a donné les pousses les plus développées avec le pourcentage de vitrification le plus faible. Le milieu d'enracinement MS n'a permis la formation de racines sur aucunes des pousses cultivés sur les milieux Z, BA et TDZ. Le milieu MS/2 a permis la formation de racines sur les pousses cultivées sur le milieu Z. La meilleure combinaison de milieux assurant la meilleure formation des pousses et des racines pour les deux provenances est celle du milieu Z avec le milieu MS/2.
Mots clés: luzerne, in vitro, micropropagation, Zeatine, BA, TDZ.