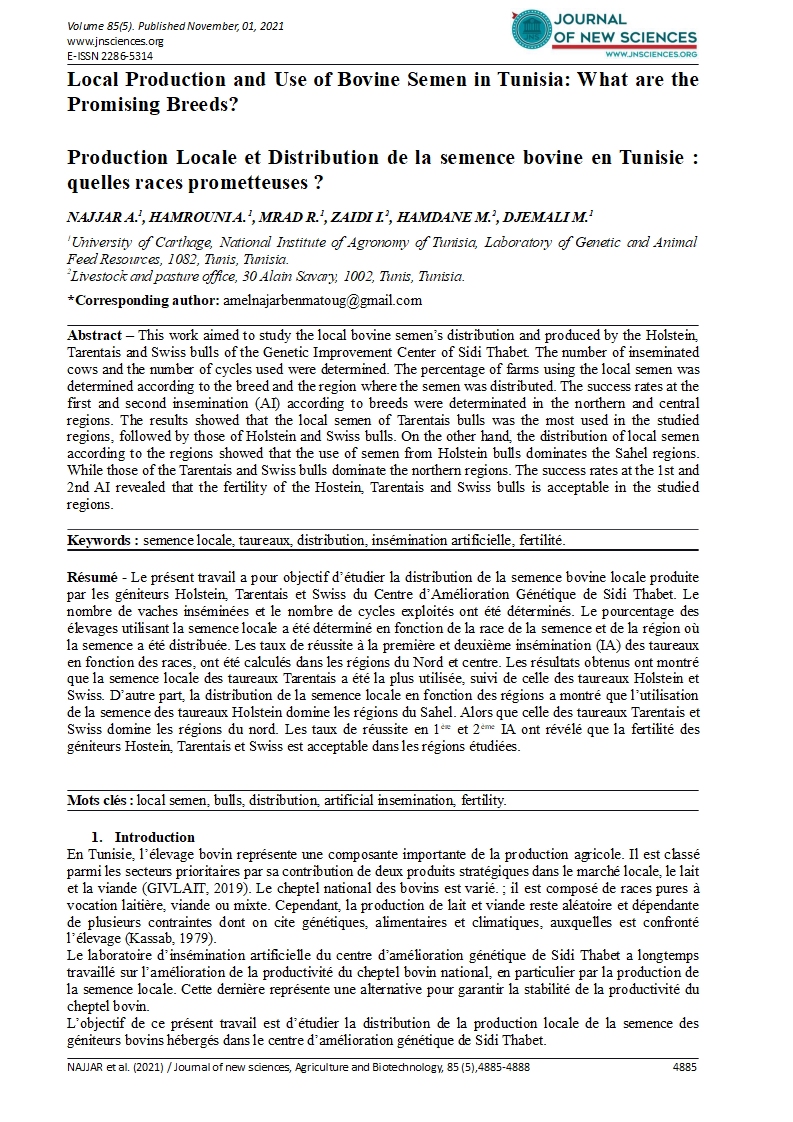 Production Locale et Distribution de la semence bovine en Tunisie : quelles races prometteuses ?
NAJJAR A.1
HAMROUNI A.1
MRAD R.1
ZAIDI I.2
HAMDANE M.2
DJEMALI M.1
1University of Carthage, National Institute of Agronomy of Tunisia, Laboratory of Genetic and Animal Feed Resources, 1082, Tunis, Tunisia.
2Livestock and pasture office, 30 Alain Savary, 1002, Tunis, Tunisia.
Abstract – This work aimed to study the local bovine semen's distribution and produced by the Holstein, Tarentais and Swiss bulls of the Genetic Improvement Center of Sidi Thabet. The number of inseminated cows and the number of cycles used were determined. The percentage of farms using the local semen was determined according to the breed and the region where the semen was distributed. The success rates at the first and second insemination (AI) according to breeds were determinated in the northern and central regions. The results showed that the local semen of Tarentais bulls was the most used in the studied regions, followed by those of Holstein and Swiss bulls. On the other hand, the distribution of local semen according to the regions showed that the use of semen from Holstein bulls dominates the Sahel regions. While those of the Tarentais and Swiss bulls dominate the northern regions. The success rates at the 1st and 2nd AI revealed that the fertility of the Hostein, Tarentais and Swiss bulls is acceptable in the studied regions.
Keywords : local semen, bulls, distribution, artificial insemination, fertility