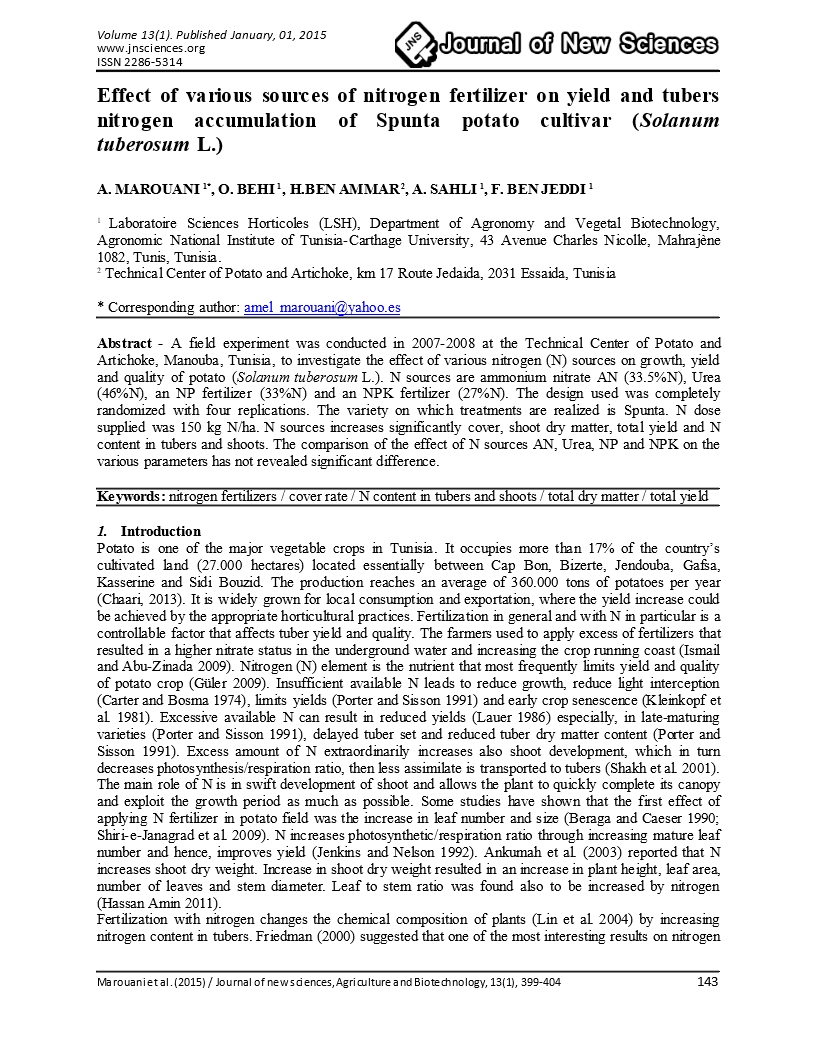 A. MAROUANI 1*
O. BEHI 1
H.BEN AMMAR 2
A. SAHLI 1
F. BEN JEDDI 1
1 Laboratoire Sciences Horticoles (LSH), Department of Agronomy and Vegetal Biotechnology, Agronomic National Institute of Tunisia-Carthage University, 43 Avenue Charles Nicolle, Mahrajène 1082, Tunis, Tunisia.
2 Technical Center of Potato and Artichoke, km 17 Route Jedaida, 2031 Essaida, Tunisia
Abstract - A field experiment was conducted in 2007-2008 at the Technical Center of Potato and Artichoke, Manouba, Tunisia, to investigate the effect of various nitrogen (N) sources on growth, yield and quality of potato (Solanum tuberosum L.). N sources are ammonium nitrate AN (33.5%N), Urea (46%N), an NP fertilizer (33%N) and an NPK fertilizer (27%N). The design used was completely randomized with four replications. The variety on which treatments are realized is Spunta. N dose supplied was 150 kg N/ha. N sources increases significantly cover, shoot dry matter, total yield and N content in tubers and shoots. The comparison of the effect of N sources AN, Urea, NP and NPK on the various parameters has not revealed significant difference.
Keywords: nitrogen fertilizers / cover rate / N content in tubers and shoots / total dry matter / total yield