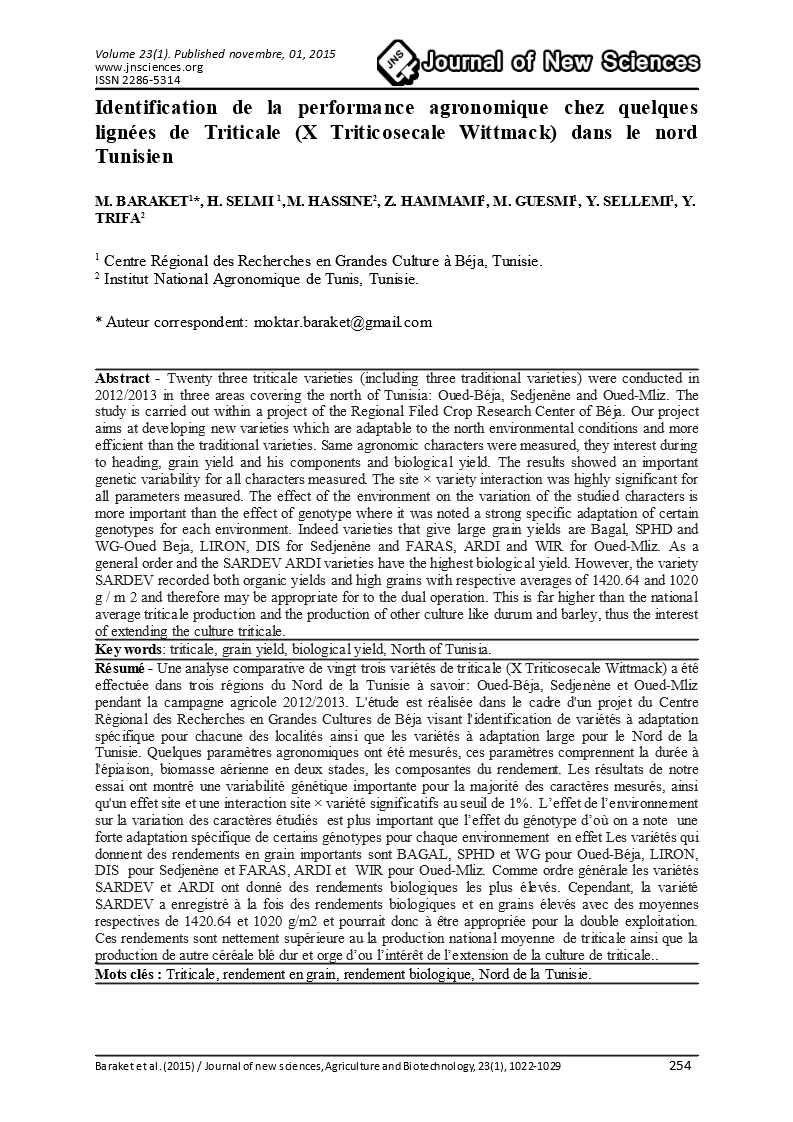 M. Baraket1*
H. Selmi 1
M. Hassine2
Z. Hammami2
M. Guesmi1
Y. Sellemi1
Y. Trifa2
1 Centre Régional des Recherches en Grandes Culture à Béja, Tunisie.
2 Institut National Agronomique de Tunis, Tunisie.
Abstract - Twenty three triticale varieties (including three traditional varieties) were conducted in 2012/2013 in three areas covering the north of Tunisia: Oued-Béja, Sedjenène and Oued-Mliz. The study is carried out within a project of the Regional Filed Crop Research Center of Béja. Our project aims at developing new varieties which are adaptable to the north environmental conditions and more efficient than the traditional varieties. Same agronomic characters were measured, they interest during to heading, grain yield and his components and biological yield. The results showed an important genetic variability for all characters measured. The site × variety interaction was highly significant for all parameters measured. The effect of the environment on the variation of the studied characters is more important than the effect of genotype where it was noted a strong specific adaptation of certain genotypes for each environment. Indeed varieties that give large grain yields are Bagal, SPHD and WG-Oued Beja, LIRON, DIS for Sedjenène and FARAS, ARDI and WIR for Oued-Mliz. As a general order and the SARDEV ARDI varieties have the highest biological yield. However, the variety SARDEV recorded both organic yields and high grains with respective averages of 1420.64 and 1020 g / m 2 and therefore may be appropriate for to the dual operation. This is far higher than the national average triticale production and the production of other culture like durum and barley, thus the interest of extending the culture triticale.
Key words: triticale, grain yield, biological yield, North of Tunisia.
Résumé - Une analyse comparative de vingt trois variétés de triticale (X Triticosecale Wittmack) a été effectuée dans trois régions du Nord de la Tunisie à savoir: Oued-Béja, Sedjenène et Oued-Mliz pendant la campagne agricole 2012/2013. L'étude est réalisée dans le cadre d'un projet du Centre Régional des Recherches en Grandes Cultures de Béja visant l'identification de variétés à adaptation spécifique pour chacune des localités ainsi que les variétés à adaptation large pour le Nord de la Tunisie. Quelques paramètres agronomiques ont été mesurés, ces paramètres comprennent la durée à l'épiaison, biomasse aérienne en deux stades, les composantes du rendement. Les résultats de notre essai ont montré une variabilité génétique importante pour la majorité des caractères mesurés, ainsi qu'un effet site et une interaction site × variété significatifs au seuil de 1%. L'effet de l'environnement sur la variation des caractères étudiés est plus important que l'effet du génotype d'où on a note une forte adaptation spécifique de certains génotypes pour chaque environnement en effet Les variétés qui donnent des rendements en grain importants sont BAGAL, SPHD et WG pour Oued-Béja, LIRON, DIS pour Sedjenène et FARAS, ARDI et WIR pour Oued-Mliz. Comme ordre générale les variétés SARDEV et ARDI ont donné des rendements biologiques les plus élevés. Cependant, la variété SARDEV a enregistré à la fois des rendements biologiques et en grains élevés avec des moyennes respectives de 1420.64 et 1020 g/m2 et pourrait donc à être appropriée pour la double exploitation. Ces rendements sont nettement supérieure au la production national moyenne de triticale ainsi que la production de autre céréale blé dur et orge d'ou l'intérêt de l'extension de la culture de triticale..
Mots clés : Triticale, rendement en grain, rendement biologique, Nord de la Tunisie.