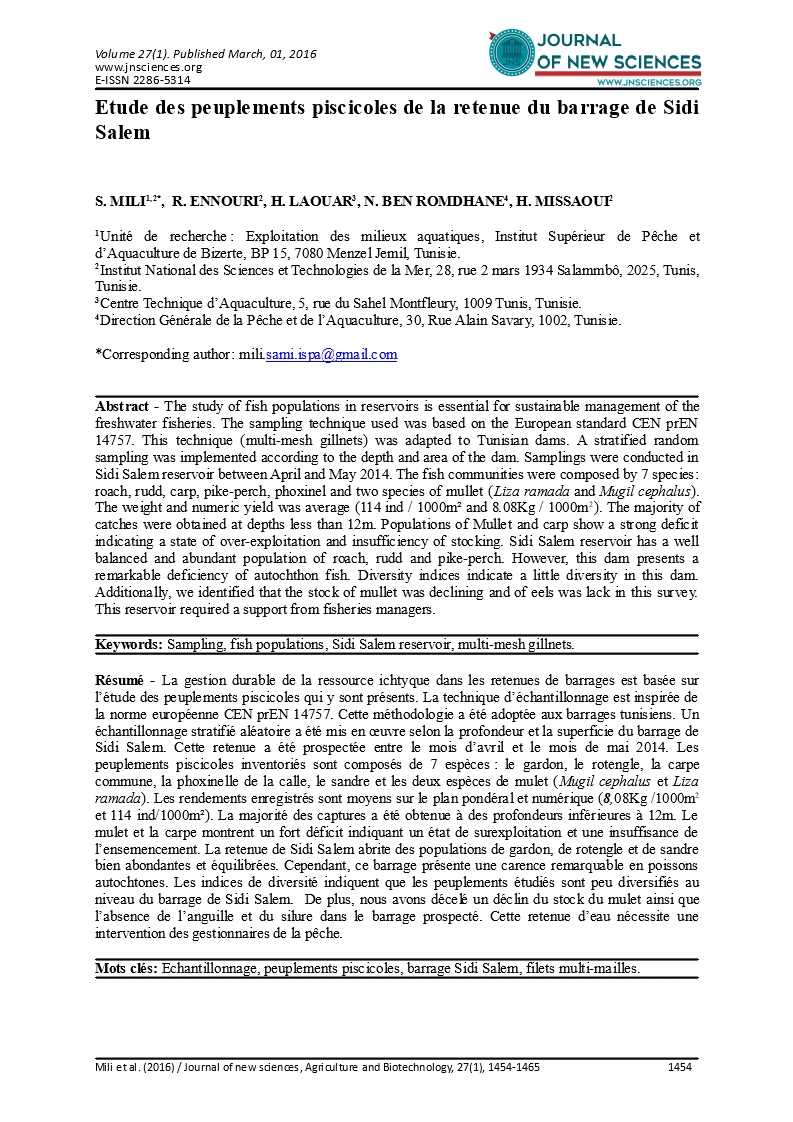 S. MILI1,2*
R. ENNOURI2
H. LAOUAR3
N. BEN ROMDHANE4
H. MISSAOUI2
1Unité de recherche : Exploitation des milieux aquatiques, Institut Supérieur de Pêche et d'Aquaculture de Bizerte, BP 15, 7080 Menzel Jemil, Tunisie.
2Institut National des Sciences et Technologies de la Mer, 28, rue 2 mars 1934 Salammbô, 2025, Tunis, Tunisie.
3Centre Technique d'Aquaculture, 5, rue du Sahel Montfleury, 1009 Tunis, Tunisie.
4Direction Générale de la Pêche et de l'Aquaculture, 30, Rue Alain Savary, 1002, Tunisie
Abstract - The study of fish populations in reservoirs is essential for sustainable management of the freshwater fisheries. The sampling technique used was based on the European standard CEN prEN 14757. This technique (multi-mesh gillnets) was adapted to Tunisian dams. A stratified random sampling was implemented according to the depth and area of the dam. Samplings were conducted in Sidi Salem reservoir between April and May 2014. The fish communities were composed by 7 species: roach, rudd, carp, pike-perch, phoxinel and two species of mullet (Liza ramada and Mugil cephalus). The weight and numeric yield was average (114 ind / 1000m² and 8.08Kg / 1000m2). The majority of catches were obtained at depths less than 12m. Populations of Mullet and carp show a strong deficit indicating a state of over-exploitation and insufficiency of stocking. Sidi Salem reservoir has a well balanced and abundant population of roach, rudd and pike-perch. However, this dam presents a remarkable deficiency of autochthon fish. Diversity indices indicate a little diversity in this dam. Additionally, we identified that the stock of mullet was declining and of eels was lack in this survey. This reservoir required a support from fisheries managers.
Keywords: Sampling, fish populations, Sidi Salem reservoir, multi-mesh gillnets.
Résumé - La gestion durable de la ressource ichtyque dans les retenues de barrages est basée sur l'étude des peuplements piscicoles qui y sont présents. La technique d'échantillonnage est inspirée de la norme européenne CEN prEN 14757. Cette méthodologie a été adoptée aux barrages tunisiens. Un échantillonnage stratifié aléatoire a été mis en œuvre selon la profondeur et la superficie du barrage de Sidi Salem. Cette retenue a été prospectée entre le mois d'avril et le mois de mai 2014. Les peuplements piscicoles inventoriés sont composés de 7 espèces : le gardon, le rotengle, la carpe commune, la phoxinelle de la calle, le sandre et les deux espèces de mulet (Mugil cephalus et Liza ramada). Les rendements enregistrés sont moyens sur le plan pondéral et numérique (8,08Kg /1000m2 et 114 ind/1000m²). La majorité des captures a été obtenue à des profondeurs inférieures à 12m. Le mulet et la carpe montrent un fort déficit indiquant un état de surexploitation et une insuffisance de l'ensemencement. La retenue de Sidi Salem abrite des populations de gardon, de rotengle et de sandre bien abondantes et équilibrées. Cependant, ce barrage présente une carence remarquable en poissons autochtones. Les indices de diversité indiquent que les peuplements étudiés sont peu diversifiés au niveau du barrage de Sidi Salem. De plus, nous avons décelé un déclin du stock du mulet ainsi que l'absence de l'anguille et du silure dans le barrage prospecté. Cette retenue d'eau nécessite une intervention des gestionnaires de la pêche.
Mots clés: Echantillonnage, peuplements piscicoles, barrage Sidi Salem, filets multi-mailles.