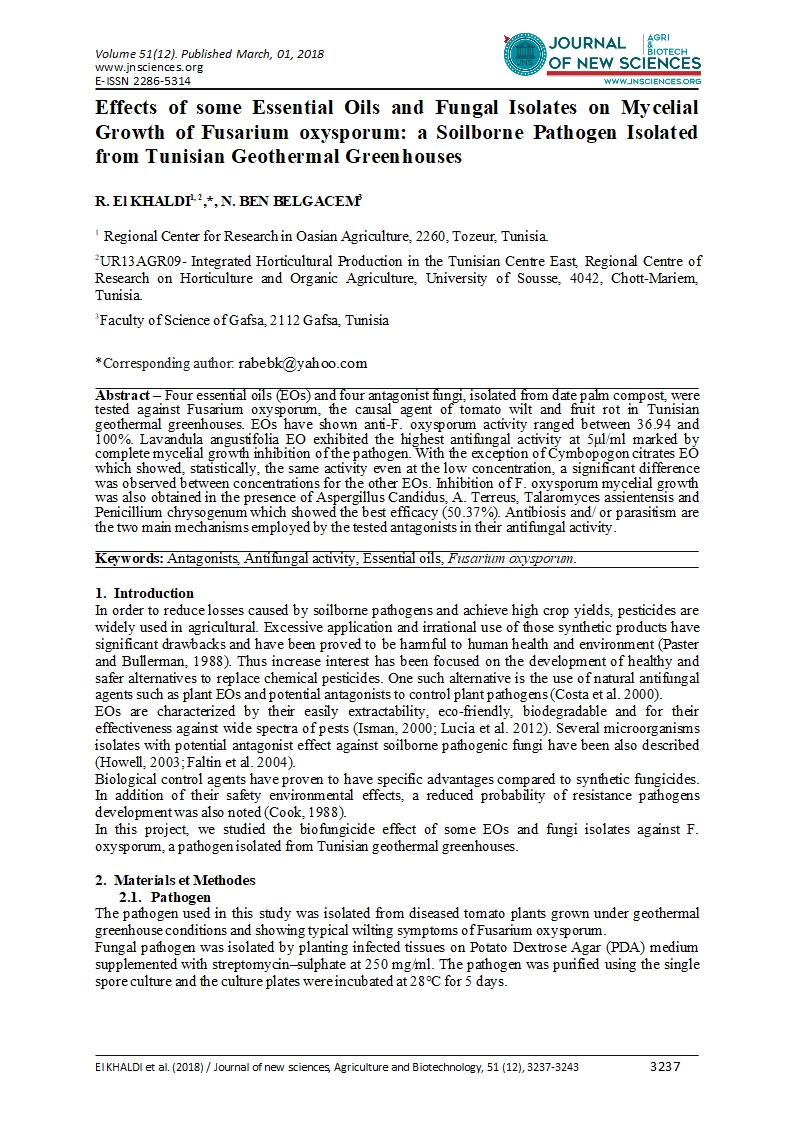 R. El KHALDI1, 2*
N. BEN BELGACEM3
1 Regional Center for Research in Oasian Agriculture, 2260, Tozeur, Tunisia.
2UR13AGR09- Integrated Horticultural Production in the Tunisian Centre East, Regional Centre of Research on Horticulture and Organic Agriculture, University of Sousse, 4042, Chott-Mariem, Tunisia.
3Faculty of Science of Gafsa, 2112 Gafsa, Tunisia
Abstract – Four essential oils (EOs) and four antagonist fungi, isolated from date palm compost, were tested against Fusarium oxysporum, the causal agent of tomato wilt and fruit rot in Tunisian geothermal greenhouses. EOs have shown anti-F. oxysporum activity ranged between 36.94 and 100%. Lavandula angustifolia EO exhibited the highest antifungal activity at 5μl/ml marked by complete mycelial growth inhibition of the pathogen. With the exception of Cymbopogon citrates EO which showed, statistically, the same activity even at the low concentration, a significant difference was observed between concentrations for the other EOs. Inhibition of F. oxysporum mycelial growth was also obtained in the presence of Aspergillus Candidus, A. Terreus, Talaromyces assientensis and Penicillium chrysogenum which showed the best efficacy (50.37%). Antibiosis and/ or parasitism are the two main mechanisms employed by the tested antagonists in their antifungal activity.
Keywords: Antagonists, Antifungal activity, Essential oils, Fusarium oxysporum.