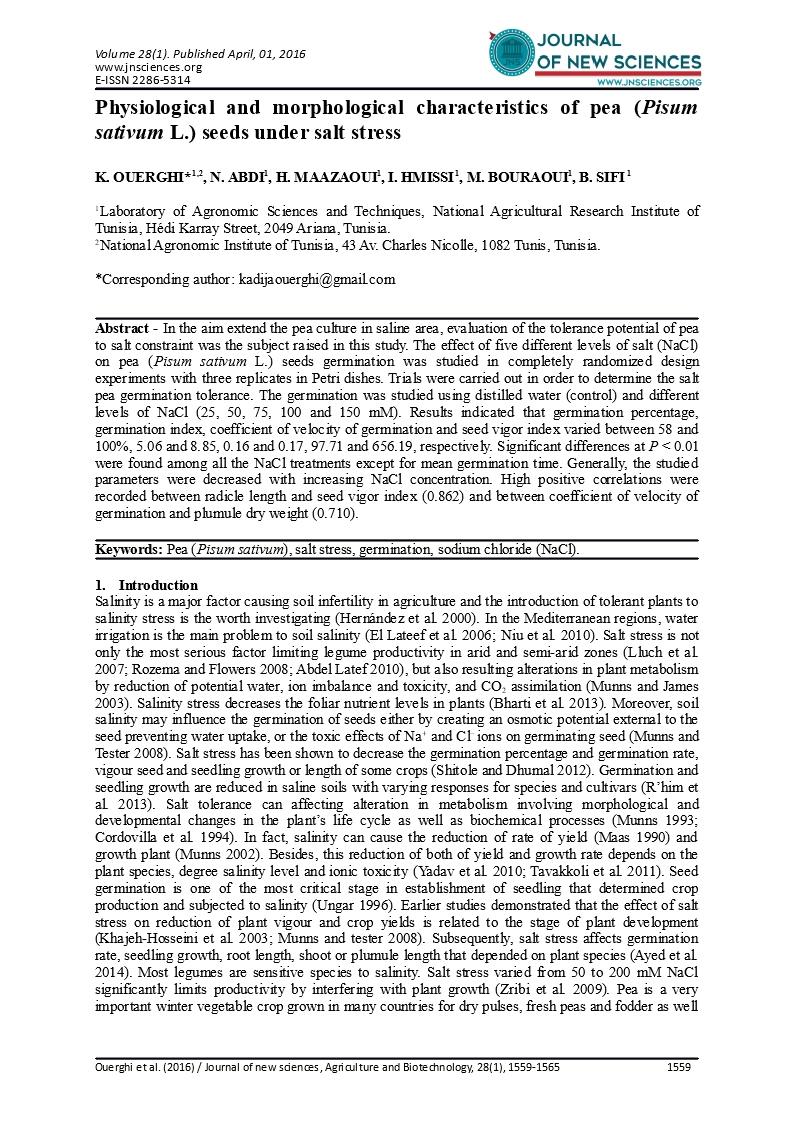 K. Ouerghi*1,2
N. Abdi1
H. Maazaoui1
I. Hmissi1
M. Bouraoui1
B. Sifi 1
1Laboratory of Agronomic Sciences and Techniques, National Agricultural Research Institute of Tunisia, Hédi Karray Street, 2049 Ariana, Tunisia.
2National Agronomic Institute of Tunisia, 43 Av. Charles Nicolle, 1082 Tunis, Tunisia.
Abstract - In the aim extend the pea culture in saline area, evaluation of the tolerance potential of pea to salt constraint was the subject raised in this study. The effect of five different levels of salt (NaCl) on pea (Pisum sativum L.) seeds germination was studied in completely randomized design experiments with three replicates in Petri dishes. Trials were carried out in order to determine the salt pea germination tolerance. The germination was studied using distilled water (control) and different levels of NaCl (25, 50, 75, 100 and 150 mM). Results indicated that germination percentage, germination index, coefficient of velocity of germination and seed vigor index varied between 58 and 100%, 5.06 and 8.85, 0.16 and 0.17, 97.71 and 656.19, respectively. Significant differences at P <0.01 were found among all the NaCl treatments except for mean germination time. Generally, the studied parameters were decreased with increasing NaCl concentration. High positive correlations were recorded between radicle length and seed vigor index (0.862) and between coefficient of velocity of germination and plumule dry weight (0.710).
Keywords: Pea (Pisum sativum), salt stress, germination, sodium chloride (NaCl).