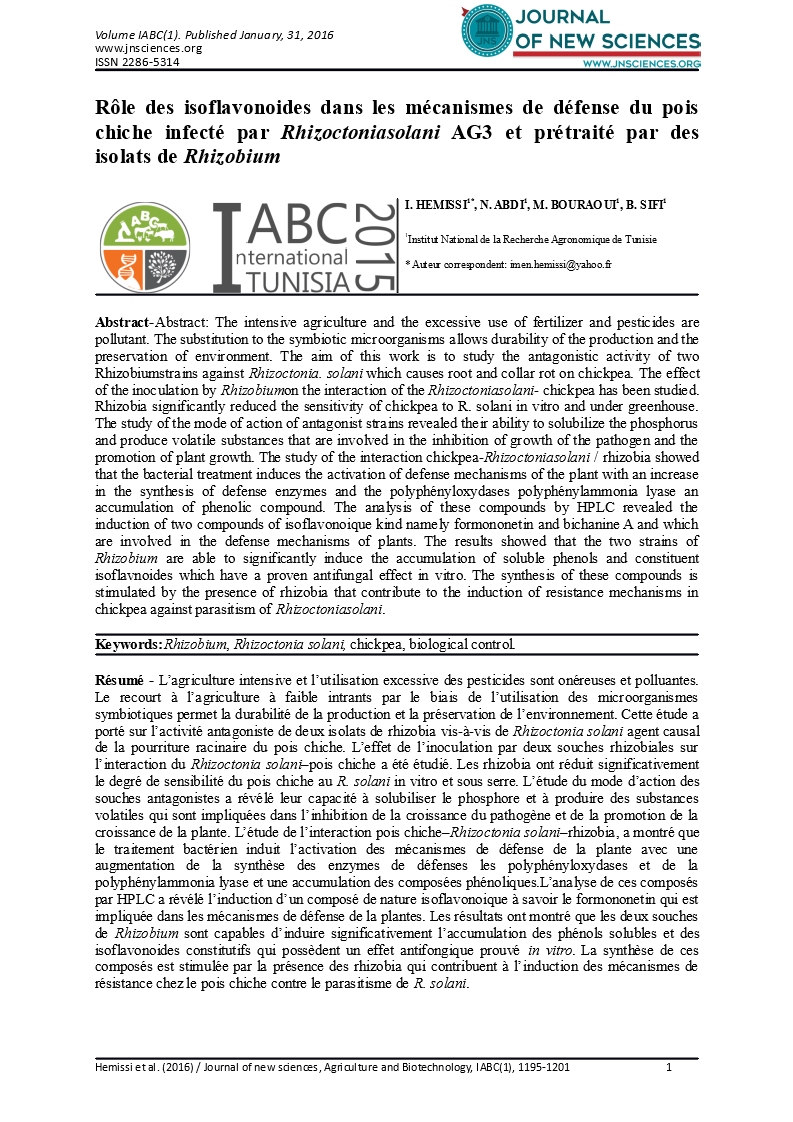 I. HEMISSI1*
N. ABDI1
M. BOURAOUI1
B. SIFI1
1Institut National de la Recherche Agronomique de Tunisie
Abstract-Abstract: The intensive agriculture and the excessive use of fertilizer and pesticides are pollutant. The substitution to the symbiotic microorganisms allows durability of the production and the preservation of environment. The aim of this work is to study the antagonistic activity of two Rhizobiumstrains against Rhizoctonia. solani which causes root and collar rot on chickpea. The effect of the inoculation by Rhizobiumon the interaction of the Rhizoctoniasolani- chickpea has been studied. Rhizobia significantly reduced the sensitivity of chickpea to R. solani in vitro and under greenhouse. The study of the mode of action of antagonist strains revealed their ability to solubilize the phosphorus and produce volatile substances that are involved in the inhibition of growth of the pathogen and the promotion of plant growth. The study of the interaction chickpea-Rhizoctoniasolani / rhizobia showed that the bacterial treatment induces the activation of defense mechanisms of the plant with an increase in the synthesis of defense enzymes and the polyphényloxydases polyphénylammonia lyase an accumulation of phenolic compound. The analysis of these compounds by HPLC revealed the induction of two compounds of isoflavonoique kind namely formononetin and bichanine A and which are involved in the defense mechanisms of plants. The results showed that the two strains of Rhizobium are able to significantly induce the accumulation of soluble phenols and constituent isoflavnoides which have a proven antifungal effect in vitro. The synthesis of these compounds is stimulated by the presence of rhizobia that contribute to the induction of resistance mechanisms in chickpea against parasitism of Rhizoctoniasolani.
Keywords: Rhizobium, Rhizoctonia solani, chickpea, biological control.
Résumé - L'agriculture intensive et l'utilisation excessive des pesticides sont onéreuses et polluantes. Le recourt à l'agriculture à faible intrants par le biais de l'utilisation des microorganismes symbiotiques permet la durabilité de la production et la préservation de l'environnement. Cette étude a porté sur l'activité antagoniste de deux isolats de rhizobia vis-à-vis de Rhizoctonia solani agent causal de la pourriture racinaire du pois chiche. L'effet de l'inoculation par deux souches rhizobiales sur l'interaction du Rhizoctonia solani–pois chiche a été étudié. Les rhizobia ont réduit significativement le degré de sensibilité du pois chiche au R. solani in vitro et sous serre. L'étude du mode d'action des souches antagonistes a révélé leur capacité à solubiliser le phosphore et à produire des substances volatiles qui sont impliquées dans l'inhibition de la croissance du pathogène et de la promotion de la croissance de la plante. L'étude de l'interaction pois chiche–Rhizoctonia solani–rhizobia, a montré que le traitement bactérien induit l'activation des mécanismes de défense de la plante avec une augmentation de la synthèse des enzymes de défenses les polyphényloxydases et de la polyphénylammonia lyase et une accumulation des composées phénoliques.L'analyse de ces composés par HPLC a révélé l'induction d'un composé de nature isoflavonoique à savoir le formononetin qui est impliquée dans les mécanismes de défense de la plantes. Les résultats ont montré que les deux souches de Rhizobium sont capables d'induire significativement l'accumulation des phénols solubles et des isoflavonoides constitutifs qui possèdent un effet antifongique prouvé in vitro. La synthèse de ces composés est stimulée par la présence des rhizobia qui contribuent à l'induction des mécanismes de résistance chez le pois chiche contre le parasitisme de R. solani.
Mots clés: rhizobia, lutte biolgique, Rhizoctoniasolani, pois chiche.